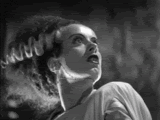 This afternoon, I was thrown a bridal shower. Initially, this scared the hell out me. It turned out really well. I now have a years supply of lacy things and the Kitchen Aid pots and pans I've had my eye on forever! (thanks New Mom and Mom!)
But the best thing was that EVERYONE LOVED THE FOOD!! We served a platter of veggie sushi, a kick-ass green salad, roasted nuts, tons of hummus and crackers and Amy's Roasted Vegetable pizza. For dessert my mom made strawberry tarts and banana bread. MMMM! :) Everyone filled their plates up and went back for seconds. My mom (bless her heart) explained to everyone about veganism and it was the cutest thing. At one point, she asked me to show everyone the 'vegan' tattoo on my wrist to show how dedicated I was.
And now, I'm drinking the gifted wine from the gifted wine glasses and preparing to use the Victoria's Secret gift cards. Not bad.