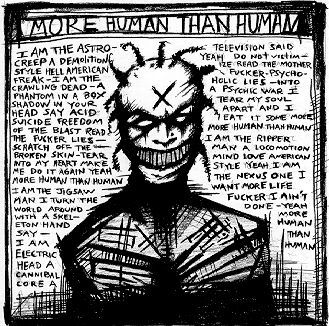 Ha ha! Now that song is stuck in your head!
For the past week I've been thinking about the extent of my veganism. Of course I wouldn't buy, eat or wear anything that harmed an animal, but what about a human? Sweat shops are making us cheap but stylish shoes, clothes and bags. Huge companies are making vegan food.
I've been trying to curb my consumerism and mostly buy second-hand vegan items, but there have been a few trips to SuperTarget and Old Navy that I'm not too proud of. Is this like saying that "I don't eat THAT much meat."?? I hope not.
I have the same problem when it comes to food. If I buy Silk soymilk or Boca Burgers, it somehow contributes to a larger company that is evil. (I'm too lazy to research this right now. Even if I'm wrong - you get the idea.)
Ideally, I would just buy thrift store clothes and eat fruits and veggies. Strange, as I'm typing this, it doesn't seem that difficult...
Stay tuned, dear reader. You may have just witnessed a life-changing epiphany. Cool. :)